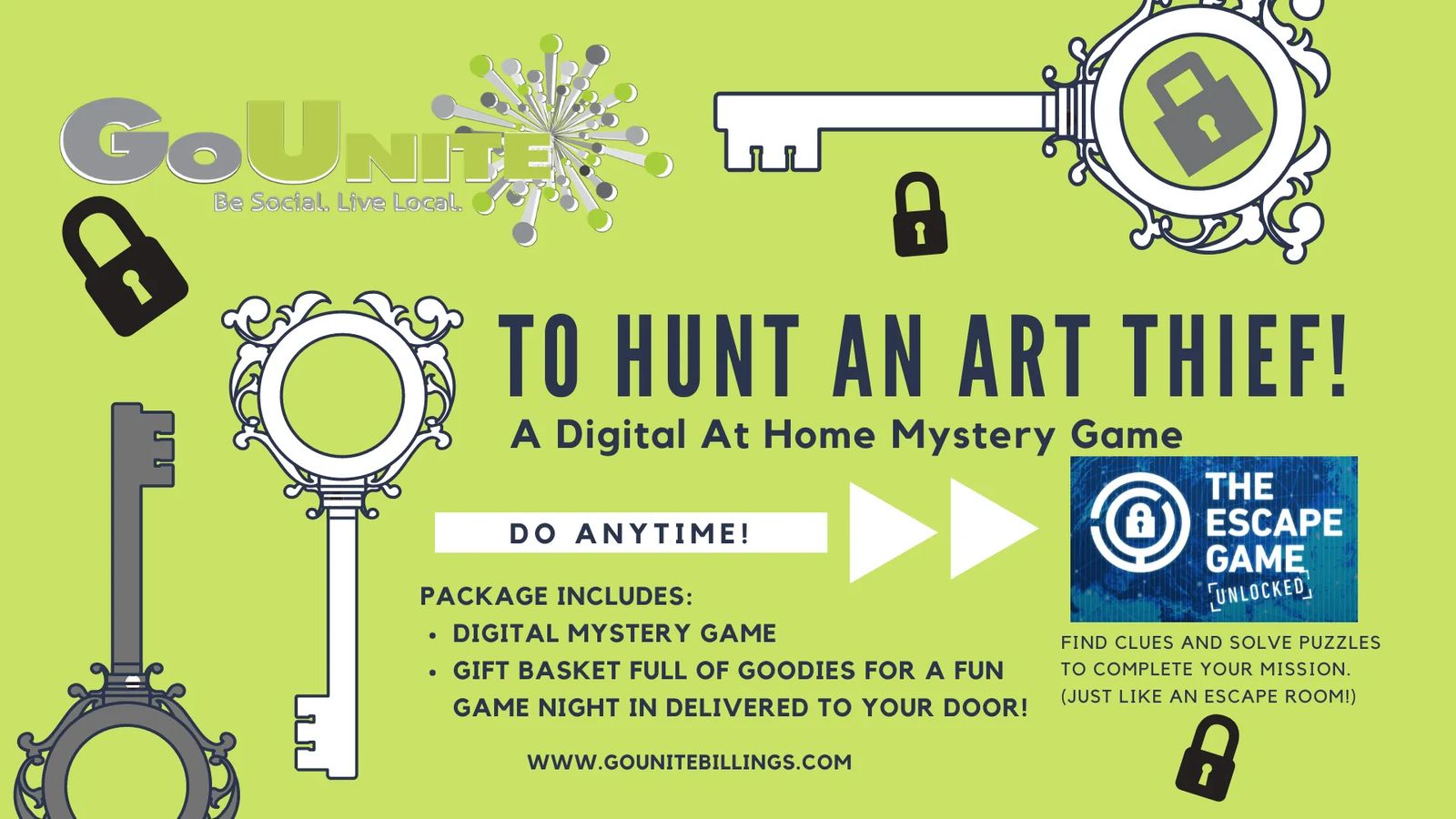 To Hunt An Art Thief - Digital Mystery Game
Do at any time! Social Distancing Approved!
There is an art thief on the loose and the agency needs your help in finding him! Get your household or a friend or two together to follow clues and solve puzzles to uncover the truth in this digital mystery game!
We partnered up with The Grand Escape Room & Liberty & Vine Country Store to put together everything you need for a fun game night in, complete with an exciting mystery game and a full basket of game night munchies and unique Made In Montana goodies.
What's Included?:
Purchase for 1 person: Access to Volume 1 of The Escape Game and a game night basket for 1 person.
Purchase for 2 people: Access to Volume 1 & Volume 2 of The Escape Game (so enough for 2 game nights!) and a game night basket for 2 people.
Purchase for 3 or more: Additional access codes to Volume 1 & 2 and the amount of product in the game night basket increased per person.

How it Works:
1.) Purchase the kit on our website and select the desired day to have your game night basket delivered to your door
2.) Get emailed the activation code to the game dashboard
3.) Get ready for a fun night in and enjoy your game night basket munchies and goodies
4.) You'll use what you find in a digital zip folder and information on the web to progress through the adventure.
5.) Find clues and solve puzzles to uncover the truth and complete your mission (just like an escape room!)



Sign up for an all-inclusive GoUnite Membership (to enjoy all the sweet perks), or purchase individual event tickets.
We do all the planning for you! Simply mark your calendar with event days and show up.
Have kids? Bring them to Wise Wonders for an activity-packed play date where they enjoy fun crafts, games, and a kid-friendly dinner.
We combine dinner at a great restaurant, creative and outdoor adventures, live music, game nights, wine & dinner pairings, beer dinners and seasonal activities for a foolproof good time. The possibilities are limitless.


Show Up. Have Fun! Repeat!
It Couldn't be any easier!