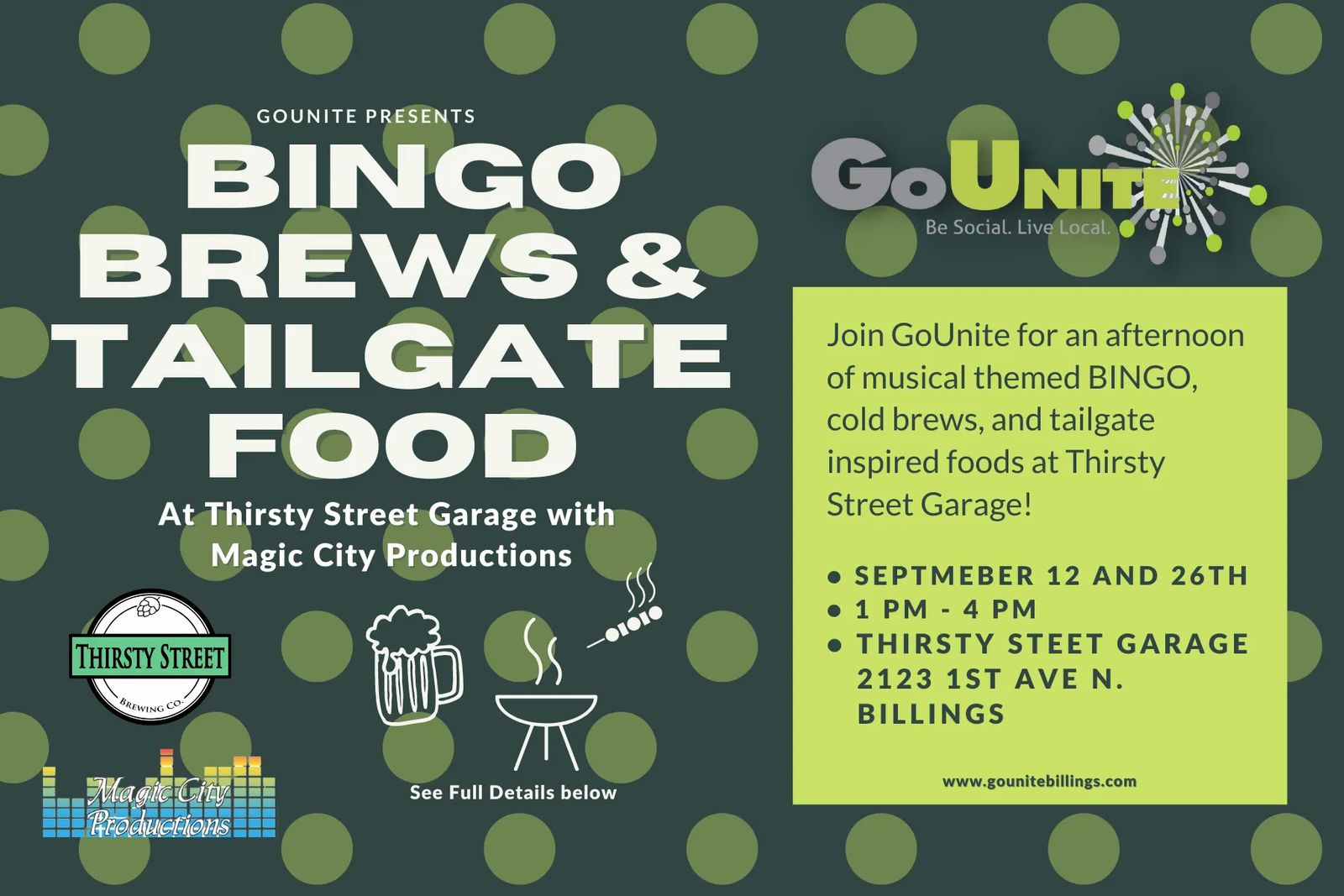 BINGO, Brews & Tailgate Foods
Register for this event! Choose your date.
Description
Join us at Thirsty Street Garage for an afternoon of BINGO, cold beer, and tailgate inspired foods. Magic City Productions will put a fun twist on traditional Bingo, by bringing the beats! Fill up your cards by identifying the tune and win GoUnite prizes! Enjoy the afternoon with Thirsty Street beers and seltzers, and tailgate food while we play!
• 2 Nights to choose from: • Sunday, September 12th (1pm-4pm) • Sunday, September 26th (1pm-4pm))•
Ticket Info
Tickets include: 2 drink tickets, meal (Bratwurst, chicken wings, specialty dips, chips, and salad) and BINGO play. $50/ticket
Non-alcohol tickets available for $45/person

Sign up for an all-inclusive GoUnite Membership (to enjoy all the sweet perks), or purchase individual event tickets.
We do all the planning for you! Simply mark your calendar with event days and show up.
Have kids? Bring them to Big Sky Imaginarium for an activity-packed play date where they enjoy fun crafts, games, and a home-cooked dinner.
We combine dinner at a great restaurant, creative and outdoor adventures, concerts, sporting events, game nights and seasonal activities for a foolproof good time. The possibilities are limitless.


Show Up. Have Fun! Repeat!
It Couldn't be any easier!